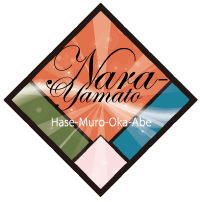 Scroll
NARA-YAMATO Four
Temple Pilgrimage
The Nara-Yamato Four Temple Pilgrimage symbolizes all that is best about Japan. We offer the true and authentic spirit of Japan and welcome you.
Let us bring peace and tranquility to your hearts in the pilgrimage.
You will set on a journey to visit Hase-dera Temple, Muro-ji Temple, Oka-dera Temple and Abe-Monjyuin Temple all of which are magnificent temples located in the Nara-Yamato province. The area called the "Center of the Nation" is the birthplace of imperial rule and is rich in historical sites.
From pretty temples with beautiful gardens and masterpieces of Buddhist sculptures to hidden gems waiting to be explored, the awe-inspiring journey will stay with you forever.
Your heart will discover the true essence of Japan in Nara-Yamato.
"NARA YAMATO Four Temple Pilgrimage"
ultural Assets
Designated by the Minister of Education, Culture, Sports, Science and Technology under the Cultural Assets Preservation Act, Japanese cultural properties, especially National Treasures and Important Cultural Properties, are highly valuable cultural assets.
Tangible cultural properties of particular importance are designated as Important Cultural Properties, and those of particular value from the perspective of world culture are designated as National Treasures.
Cultural properties are valuable national assets that have been created and nurtured over the course of Japan's long history and have been preserved and handed down over the generations until today.
Cultural property includes shrines and temples, Buddhist statues, historic sites and scenic spots, as well as traditional customs and performing arts and natural monuments.
Nara, which is also known by its old name, Yamato, has a profound history that continues to this day.
Many cultural assets were created in the course of its long history and have been handed down to the present day through the efforts of our predecessors.
The four temples also have a number of cultural assets that have been designated as National Treasures and Important Cultural Properties. These historical treasures always remind us of the history and culture of our country.
Explore the Central and
southern regions of Nara Prefecture